Pokemon XY2 Schedule
Link to full Pax Schedule! Special Sealed: Modern Masters Mayhem: Foil Modern Masters Set on the line - Hunt for Garruk, new player 90 minute event!
04/22/2014
In the grim dark world of Warhammer Fantasy players do battle witha variety of armies ranging from Ogres to Daemons to Dark Elves. Open play goes from 12 PM to 6 PM. Players must provide their own armies.more...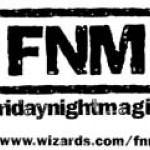 04/25/2014
Friday Night Magic : FREE Standard with optional buy in ,
Hello everyone! Friday Night Magic gets even better at TJ's! The FREE FNM will continue as is with the optional buy in for $5.00. We are changing the start time of the standard FNM to 7:30 pm. Our FREE FNM This month will also feature the following additional ...more...
04/26/2014
Journey into Nyx - Pre-Release Midnight Madness
Come to the Journey into Nyx Prerelease and experience the newest Magic: The Gathering set a week before it goes on sale! The Journey into Nyx Prerelease presents players with a special opportunity to open a Prerelease Pack and continue their journey ...more...